Saturday Beach BBQ/Hoover Ball!! – 072713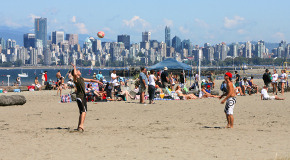 Hey Overdrivers! The big day has finally arrived!
The box will be closed today as we will all be down at Spanish Banks beach for our 3rd Annual Overdrive BBQ and Hoover Ball event, as well as celebrating 4 years in business! We will be there most of the day from 9 am onwards. The location will be updated once we secure a spot(go to the Facebook event page or our Overdrive page for updates!)…most likely at the volleyball courts.
Remember, the beach workout starts at 10:30 am so get there on time if you want to participate! Everyone is welcome, so feel free to bring some friends to meet our kick-ass Overdrive community as we look forward to doing it up big on the social front!
*Anyone wanting to join/help out with the early bird and set-up crew, meet at the box for 8 am. We will leave shortly afterwards.
Also, for all you beach rookies, make sure to bring the following in case:
-sunscreen(so you don't burn)
-sunglasses(so you don't go blind)
-extra change of clothes(if you get wet and dirty and want a ride home in someone else's clean car)
-beach towel/mat(if you want to avoid getting too much sand where the sun don't shine)
-sandals(so you can wear them after your feet get wet from the ocean or rinsing)
-extra water to stay hydrated(we will bring some but in case there isn't enough)
-a great attitude ready to have the time of your life!! 🙂
See everyone at the beach!
Marco