Rememberance Day – "Paul"
*Today's class times are 9 am bootcamp and 11 am Crossfit ONLY.
Being Rememberance Day, we shall take on a Hero WOD! So, get your engines revved up and ready to hit this one hard!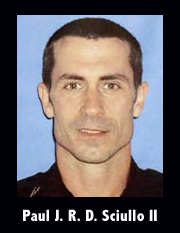 Pittsburgh Police Officer Paul John Rizzo Domenic Sciullo II, 36, was shot and killed in the line of duty while responding to a domestic disturbance call on April 4, 2009.
He was engaged to be married with Lisa Esposito.
WOD : "Paul"
Five rounds for time of –
50 Double unders
35 Knees to elbows
185/135 pound Overhead walk, 20 yards
*Scaling down options are 155/115, 135/95, 115/75.